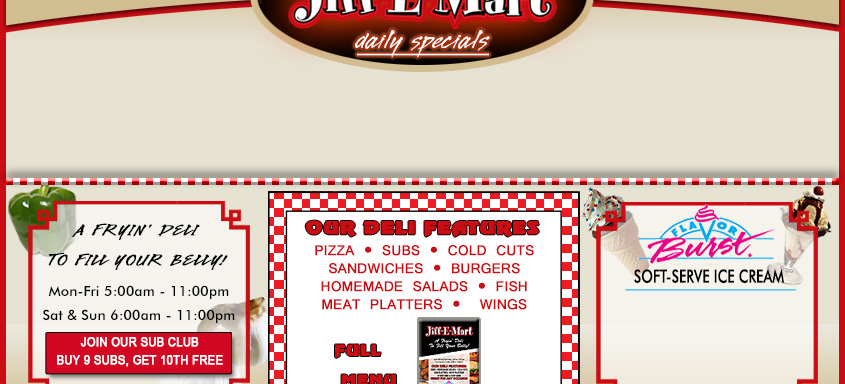 The Jiff-e-Mart first opened in 1985 originally as your typical gas station servicing only fuel to the people in the local community. Five years later the idea to add a deli arose and there was no looking back. From pizza & wings to cold & hot subs, sandwiches and cold cuts; mozz sticks, fish fry's, burgers & fries, our deli offers something for virtually any appetite. Open seven days a week, as well as all holidays, please allow us to cater any of your home, business or holiday parties, or just your dinner tonight, as we offer free delivery!
New Super Specials Foot Long Cold Subs $7 Tuesdays
70¢ each Chicken Wings Thursdays
8 Cut Cheese Pizza $8.99 Friday
Jumbo NY City Style Hot Pastrami & Reuben Sandwiches
1/2lb $9.99, 3/4lb. $11.49
© 2016 Jiff-E-Mart. All Rights Reserved.
Site Design by
Platinum ITS